District Ditches: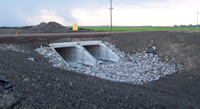 Polk County #41 (Project No. 17)
Prior to the construction of Project 17, the area east of Climax was poorly drained, with frequent crop damages associated with ponded water on crop land. In order to provide relief for residents in the area, the SHRWD investigated a petition in the early 2000's. This investigation led to the establishment of Project 17 in 2005, with construction being completed in 2006. Portions of Polk County Ditches 6, 9, and 119 were improved as part of Project 17.  The upstream portion of Project 17 is located east of the railroad tracks that parallels MN Highway 9 in Sections 29 and 32 of Russia Township. This route diverts water north that historically contributed to Polk County Ditch 9. Project 17 also contains a portion of Polk County Ditch 9, between the outlet of Maple Creek in the SW ¼ of Section 27 of Russia Township, and its outlet with Project 17. In the NW ¼ of Section 29 of Russia Township, Project 17 begins an improved channel that generally follows the Polk County Ditch 119 alignment to the east until reaching the outlet of Polk County Ditches 9 and 119 in the NE ¼ of Section 29 of Hammond Township. Project 17 then continues to the west via channel improvements to Polk County Ditch 6, and outlets into a natural located in the NW ¼ of Section 28 of Vineland Township. The natural drainage outlets into the Sand Hill River in the NE ¼ of Section 28 of Vineland Township, just to the east of Climax, MN.
Construction of Project 17 was closely coordinated with the Polk County Highway Department to capitalize on their County Road 41 improvements. Excavated material was utilized to reconstruct the road, and ultimately resulted in a cost savings for the benefitting landowners.
---
Benefit Area:

Download a copy of the benefit area map here!

Project Costs:

Under construction - check back soon!

Recent Ditch Inspection Report:

Surveyors and ROW marker installers put up signs replacing missing markers along all of the ditch ROW. Signs were be placed every ¼ mile so they are easily seen. Check back soon for 2017's recent ditch inspection report.
Photo Gallery