District Ditches: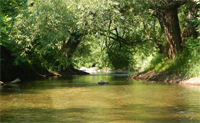 Liberty Onstad Ditch
On August 6, 1979, landowners in the Sand Hill River Watershed District (SHRWD) petitioned the board of managers of the District for the construction of a ditch beginning the in the northwest corner of Section 36, Onstad Township and extending sourtherly, along sections lines, to a point on the west section line in Section 1 of Liberty Township. The ditch was investigated, and constructed, in 1980. The ditch provides an adequate channel to handle flows from the drainage north of MN State Highway No. 102. The ditch has a drainage area of approximately 780 acres south of Highway 102. An additional 7,385 acres contributes north of Highway 102, which is regulated by the culvert through the railroad tracks.
---
Benefit Area:

To download a copy of our benefit area map, click here.

Project Costs:

Under construction - check back soon!

Recent Ditch Inspection Report:

2017 ditch inspections were recently performed. Check back soon for a recent ditch inspection report.
Photo Gallery