District Ditches: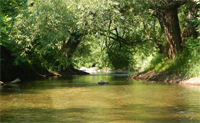 Ditch # 80
Polk County Ditch 80 provides an outlet for approximately 4.2 square miles. The existing ditch consists of approximately 3.5 miles of open channel, and has over 45 feet of vertical fall. Flows frequently break out ofthe drainage area, and flow overland, impacting the adjacent Maple Creek. Landowners submitted a petition to the SHRWD to investigate improving the system and adding laterals to control break out flows.
In anticipation of the petition for Ditch 80, the SHRWD applied for funding through the Multipurpose Drainage Management Program, which is part of the Clean Water Fund administered by BWSR. The SHRWD was successful in securing funding for the installation of side inlet pipes along the ditch channel.
These practices will reduce the contribution of sediment into the ditch system, and also reduce the costs required by the benefitting landowners.
During the 2019 construction season, Davidson performed ditch excavation starting from the outlet of Polk County Ditch 80 into Maple Creek, to ¼ mile east of 200th Ave. SW (1.8 miles in length). Lateral 1, which is in the middle of section 26, was excavated from Polk County Ditch 80 to 390th St. SW (0.5 miles to the south). Lateral 2, which is located on the east side of 200th Ave SW and the south side of 390th St. SW, was excavated from Polk County Ditch 80 to 390th St. SW (0.5 miles to the south). Temporary erosion control rock checks were placed in the bottom of the ditch just upstream of 200th Ave. SW, halfway between 200th Ave. SW and County Road 48, upstream of County Road 48, and at the outlet of Polk County Ditch 80. Several riprap drop structures and side inlets were also installed.
---
Viewers Report & Plans:

To download the viewers report, click here.

To dowload the Benefit Area Map, click here.

To download the Construction Plans, click here.

Public Meetings:

Minutes from the informational meetings can be found here:

Progress Report:

Due to getting a late start on construction, the improvements will be completed next spring. Davidson Construction will complete channel excavation on Polk County Ditch 80 (approximately 1.75 miles remain) and Lateral 2 (approximately 1.0 miles remain). Remaining construction items include spreading topsoil, seeding all disturbed areas, installing riprap drop structures and installing side inlets. Lastly, gravel will be added at the junction of 190th Ave. SW and 390th St SW to lessen the occurrence of water overtopping the road.

Photo Gallery