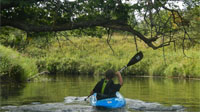 River Recreation on the Sand Hill
Kayaks  are becoming a common sight on the Sand Hill River in the Fertile area—adding to Fertile's recreation offerings. Paddlers especially enjoy the scenic float through the golf course area of the Sand Hill River. Use this map as a guide to help you discover new territory! Follow us on Facebook to stay up date on curret conditions and interact with other paddlers who enjoy the river recreation as much as you!

Spring and early summer are generally the best times to explore these reaches. Work has also begun on a project being coordinated by the Sand Hill Watershed District to place rocks below the drop structures between Fertile and Beltrami which will provide for future upstream fish passage and safer river conditions. Stay tuned for more news on promising Sand Hill River recreation developments.
---
Upcoming Events

Watch for upcoming information about the new River Explorer's Event! The Sand Hill River Watershed district is planning on sponsoring a River Explorers day with guided kayak tours on the Sand Hill River. Definitive dates have not been set for the month of June as it will greatly depend on river level condidtions. Check back often for updates regarding this exciting event!

Paddling Checklist!

Don't be caught unprepared! Here is a list of items to consider bringing along with you on your adventure!

Kayak/canoe/SUP
Paddles
Life Jacket (PFD)
Dry Bags
Water, Food and snacks
Water shoes (not flip flops
Suncreen
Bug Repellent
First aid kit
Waterproof Camera
Knife

Reading the gauges

Knowing what to expect at different water levels is important for an enjoyable and safe paddling experience. The DNR maintains a river level gaging station just downstream of the Fertile area which provides near real-time information on river height and flow. Information is generally updated at least daily.

Generally if the flow is at 40 cubic feet per second (cfs) or less, paddlers will begin scraping bottom and rocks can become challenging—but it is easy to get out of your kayak and wade through/around obstacles. If the flow is over 200 cfs, paddlers will go over most rocks, but this is fast moving water and if there are tree snags it can be challenging for safe passage—caution is advised and make sure you're wearing a life jacket.
Gauging Stations
Local Weather

Subscribe to